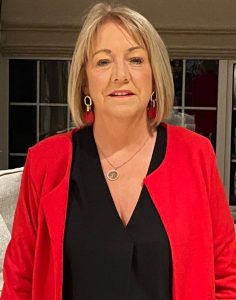 ÓRLAGH  MCCRORY LLSMD BA(Hons) Early Childhood Education

Although living in Laois for the past 32 years, Órlagh is actually a proud Limerick woman, and participated  in both Junior & Senior sections  of Feile Luimni many years ago!

Órlagh has both Associate & Licentiate teaching diplomas in Speech & Drama from Leinster School of Music & Drama.   She also has a BA (Homs) in Early Childhood Education. All of these qualifications have given  Órlagh a great insight into the value of fostering and encouraging good communication skills in children from a very young age.

After moving to Portlaoise Órlagh set up the extremely successful Chatterbox School  of Speech & Drama which enjoyed an excellent reputation in Portlaoise and  the surrounds for 28 years.

Órlagh feels that promoting confidence in children by providing opportunities for them to perform in public in a positive, supportive environment, such as Feile Luimni, will ensure our next generation will be confident and competent communicators. Órlagh is highly sought after as both an examiner and adjudicator and she is honoured to be invited to adjudicate at Feile Luimni this year.