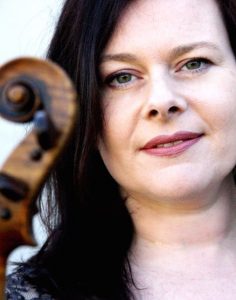 Dublin-born Gillian Williams is widely regarded as one of Ireland's most gifted violinists. A precocious talent, she picked up the first of a string of awards, First Prizes and Gold Medals at the age of seven. A student at the Royal Irish Academy of Music, she won the most coveted prizes at the Feis Ceoil and was a recipient of all major private /State bursaries. She first began performing with the RTE orchestras and the Irish Chamber Orchestra at the age of 17 andwent on to study under David Takeno at the Guildhall School of Music, London, where she graduated with Distinction (1990) and mastered in solo performance (1991). Among her numerous achievements at the Guildhall was her selection by the school's Director to perform Mozart's Violin Concerto in A major with the Guildhall Chamber Orchestra in several prestigious London venues (St James's, Piccadilly, Barbican Centre). After appearing as soloist with the NSOI in the 1993 RTE Lunchtime Series at the National Concert Hall, she became Ireland's first string player to participate in the 1994 Tchaikovsky Competition held in Moscow. One of Dublin's most sought-after orchestral leaders, she led and co-led the NSOI and the ICO during the 1990s and is permanent Leader of the Orlando Chamber Orchestra conducted by Dr. Ite O'Donovan.
Commanding a wide-ranging repertoire, her characteristic warmth, intensity and clarity have won her public and critical acclaim. Her repertoire for solo violin and orchestra includes Vivaldi's Four Seasons, concerti by Bruch, Tchaikovsky, Brahms, all the concerti by Mozart -including the Sinfonia Concertante which she performed on several occasions with French cellist Arun Rao as well as Double Concerti by Brahms, Delius and Saint-Saëns. Her several solo performances at the National Concert Hall with the NSOI under distinguished conductors (Markson, Pearce, etc) were all recorded or broadcast live on RTE Lyric FM. Ms Williams also collaborated with a host of distinguished pianists (Philippe Cassard, Roger Vignoles, Elisaveta Blumina, Finghin Collins, Bernard Lansky, Lance Coburn, François Zeitouni) in chamber music recitals at all the major Dublin venues. Her 2005-cycle of the three violin sonatas by Brahms at the National Gallery was broadcast on Lyric FM. Ms Williams has a special affinity with French music: she has performed Ravel's Sonata for Violin & Cello no less than fourty times throughout Ireland and the South of France since forming DUO CHAGALL with partner Arun Rao in 1993, and lists an impressive number of chamber music works (sonatas, trios, quartets,etc) by Fauré, Ravel, Poulenc, Messiaen, Debussy (including the viola part of his Trio Sonata), Milhaud, Honegger, Ropartz, Renié, Vierne, Saint-Saëns and Langlais.
Her partnership with cellist Arun Rao DUO CHAGALL (formerly Rao-Williams Duo) is one of Ireland's longest and most celebrated. Its formal debut goes back to 1993 at Dublin's Alliance Française, although the two musicians played together as Guildhall School students, notably in a performance of Brahms' Double Concerto Op.102 with a student orchestra. They have since brought seldom-performed masterpieces to Irish audiences and collaborated with distinguished pianists and string players in larger ensembles. DUO CHAGALL appeared on RTE radio and television in the 1990s and recorded a CD of predominantly French music in 2009 (launched in Tower Records, Dublin). They were invited to host summer series at the Musée Vuillod-St-Germain in Pezenas (south of France) in 2011-13, performing works by J.S Bach, Handel, Ravel, Kodaly, Gliere, Honegger, Mozart, Villa-Lobos, Milhaud, and took part in the 'Festival de la Vallée du Tarn' in July 2017, where they collaborated with the Franco-Ukranian couple Bringuier-Monakh. Their most recent venture were two World Premieres of works expressly written for them in 2017 by eminent Irish conductor
and composer Colman Pearce: Duo Concertante & Piano Trio, at The Hugh Lane Gallery, Dublin, in May 2018.
In 2010 DUO CHAGALL launched the classical series AUTUMN SOUNDS (formerly the 'Fingal Classical Music Festival') in partnership with Fingal. Initially a three-day event in St Mochta's Church, Porterstown, the series re-located the following year to the prestigious Ballroom at Farmleigh, the State Residence at the Phoenix Park, at the invitation of the Office of Public Works. Now in its eighth season, AUTUMN SOUNDS has treated music-lovers from Fingal and North Dublin to a wealth of chamber music from France, Russia, Germany, Norway and England, featuring works by neglected composers and rarely-performed masterpieces alongside 'popular' classics, constantly striving to refresh the concept of 'themed concerts'. One of the series's most impressive achievement was Ms Williams's performance of all the chamber music works including the violin by Robert Schumann, including both Sonatas (Op. 105 & 121), the three String Quartets Op.47 and all the Trios, Quartet and Quintet with piano, between 2014 and 2017. The 2018 edition was their most ambitious to date and was entirely dedicated to the chamber music of Claude Debussy; featuring leading harpist SAivan Magen, it included his Danses sacrée et profane for solo Harp and Strings and the Irish Premieres of a reduction for instrumental quintet of his opera Pelléas & Mélisande and the early song by André Caplet Viens! One flûte invisible soupire… for Flute, Soprano and Piano.
Ms Williams lectures at DIT Conservatory of Music.